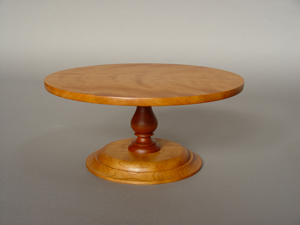 Cake Platter
Hand turned platter available in your domestic species of choice. Shown in cherry. Click the link to see a platter in maple, antiqued with milkpaint. $200.00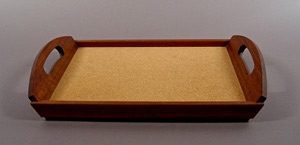 Serving Tray
Tilted handles make this tray a comfort to carry and the cork bottom prevents your cargo from sliding as well as providing a soft landing for anything that may turn over. Shown here in walnut. $250.00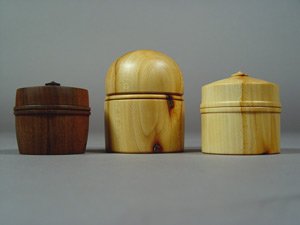 Condiment Well
These turned boxes make great storage around the kitchen for salt, sugar, or other condiments. Could be used as a keepsake as well. Wells shown here are in walnut and sycamore. $50.00 each.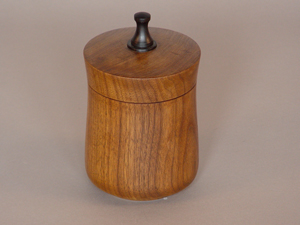 Walnut Canister
A larger canister great for coffee, sugar, flour, popcorn seed, or other condiments around the kitchen. African blackwood knob. Please see my scoops below if you would like a matching set. $225.00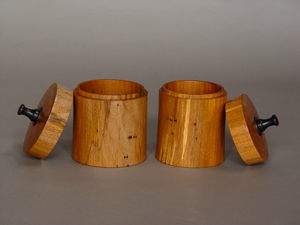 Pecan Canisters
Medium to large sized pecan canisters. Milk painted maple knobs. $225.00 each.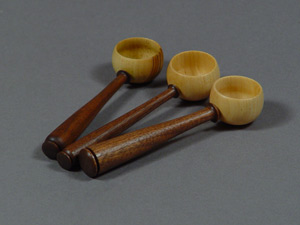 Scoop
Originally crafted as a coffee scoop, these can be turned in a variety of sizes. Handle lengths can vary as well if the scoop needs to fit inside a certain container. Shown here in walnut and maple. $35.00 each.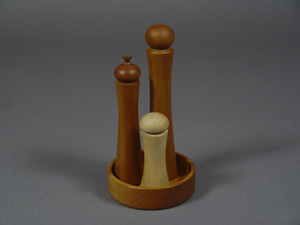 Pepper Mill
Shown here are a couple of cherry pepper mills as well as a maple salt shaker all standing in a cherry catch bowl for those elusive bits of condiment that always linger around the countertop. Mills $75.00 each. Catch bowl $75.00 each.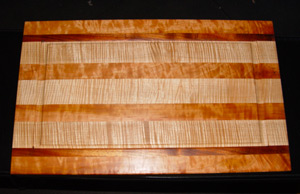 Cutting Board
Cutting boards can become conversation pieces when the wood is figured as such. This one was done in figured maple, koa, and cherry and is one of a kind. Pictures never do it justice. The juice tray is optional. Gorgeous.
Cutting boards can vary in species and design so I ask you to please contact me to talk this over and quote your custom cutting board.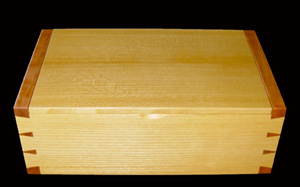 Wood Hinged Tea Box
This box was designed as a space to store and organize flavored teas, though it would serve as a nice keepsake as well. Contrasting woods show off the exposed corner joinery and a surprise wooden hinge is sure to spark curiousity. The floor of the box can be coated in leather as a nice touch. Box size and divider spacing to be determined by the user's intentions. The box featured here is 12" long x 8" wide x 4.25" high. $850.00