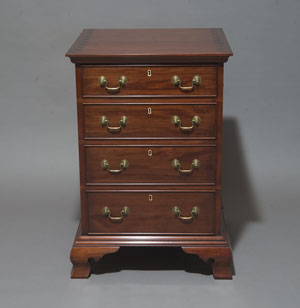 4 Drawer Chest
Built in solid, quartersawn sycamore, this is a beautiful end table or nightstand. Through, exposed, hand cut dovetail carcass construction and piston fit wood on wood running drawers ensure it will outlive the grandkids' grandkids. The ogee bracket feet lift it to stand proudly and the moldings are icing on the cake. Classic style.
Designed and built by Matt Branyan from a locally fallen sycamore tree. $4000.00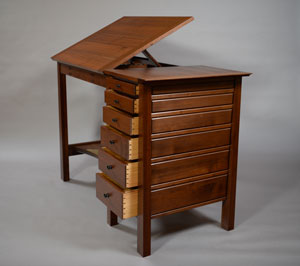 Drafting Desk
Solid walnut drafting or architect's desk. The joinery for this one was most satisfying as it was hand cut sans wattage. Exposed drawer runners and kickers hold the graduating panels, forming the also graduating drawer boxes, drawers, and drawer knobs. These panels exist on all three sides of the drawer case so as to look presentable from every angle. The tilting top is of solid walnut and flanked in breadboards for everlasting integrity. Drawers are piston fit and dovetailed front and rear using quartered walnut and quartered sycamore for ultimate stability and even the bottoms are solid sycamore. The walnut foot rest is relief cut for stool leg access and protected with a brass scuff plate which has been shaped to follow the curvature of the foot rest and slightly distressed. Even the racheting mechanism for the tilt top is solid walnut utilizing exposed mortise and tenons in the rail joinery.
This desk is customed to an ergonomic height fit for standing or sitting so as to allow for those long work sessions. Six extra long drawers provide luxurious storage.
Designed and built by Matt Branyan from a locally fallen walnut tree. Please allow plenty of lead time as this desk takes considerable time to build. $12,500.00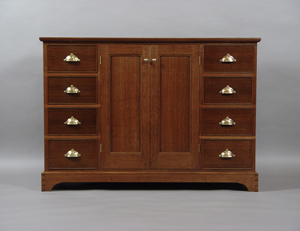 Sideboard
Built of a wormy white oak log well over 100 years old using proven, traditional construction and finishing methods. Wedged through tenons, near 250 hand cut dovetails, and a design conscious of seasonal wood movement will allow this sideboard to outlive the generations to come with little care. Finished in oil, shellac, and wax after a traditional ammonia fuming to enhance the white oak's color. Hardwares are solid brass.
Designed and built by Matt Branyan from a locally fallen white oak tree, this piece is available as shown or in your domestic species of choice. $12,500.00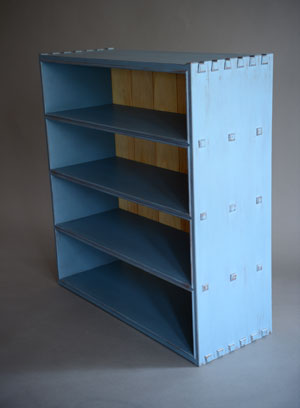 Molding plane cabinet
Made to hang on the wall and hold my molding planes, this is a striking display cabinet. It could be constructed in any species and finished in a variety of ways. I chose to build this one from a locally fallen white pine tree which came down in a windstorm and landed in our friends' bedroom. Lucky for us, no one was hurt and the tree had grown large and as straight as a gun barrel.
The proud standing joinery, all hand cut and integral, combined with the beaded front really lends itself to the distressed, milk paint finish. The beaded, tongue and grooved back contrasts nicely and sheds a little light on the displayed items. A personal favorite. 30" x 30" x 11" deep.
Designed and built by Matt Branyan. $1700.00.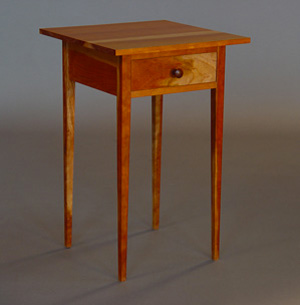 Side Table
Another great side or end table. Built with a single drawer, dovetailed and piston fit. All furniture knobs are hand turned. $1300.00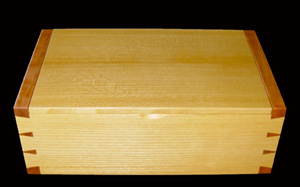 Wood Hinged Tea Box
This box was designed as a space to store and organize flavored teas, though it would serve as a nice keepsake as well. Contrasting woods show off the exposed corner joinery and a surprise wooden hinge is sure to spark curiousity. The floor of the box can be coated in leather as a nice touch. Box size and divider spacing to be determined by the user's intentions. The box featured here is 12" long x 8" wide x 4.25" high. $850.00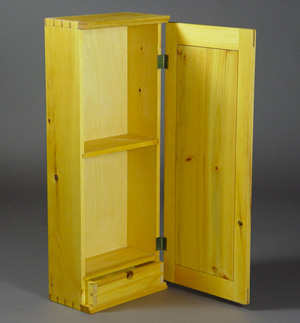 Hanging Wall Cabinet

I use this cabinet to store and organize guitar accessories though its uses are many. Exposed dovetails, a solid wood door which also shows off its joinery, and sliding dovetailed dividers ensure this cabinet will out live us all. Add one or more dovetailed drawers to customize your storage. Shown here in eastern white pine at 30" high x 12" wide x 6.5" deep. $1500.00
This little guy is quite handy. Its primary use is to get your laptop or monitor up to a more ergonomic position so that your line of sight is closer to eye level. Once we reach a comfortable site line we add one or more drawers and or shelves/dividers. The desk can be customized to fit your needs. Shown here is a simple one drawer version made to sit in a tight spot. It could stretch the length of a table to turn it into a comfy workspace or help organize and add more storage to your current desk. Dovetail construction, piston fit drawers, and mobile. Shown here at 17" wide x 14.5" deep x 4.5" high. Price will vary with size, species, shelving, and number of drawers.
An open stand to hold a flat screen television along with various other components of choice. Constructed without doors or drawers to stay within budget. A nice piece in solid walnut. SOLD.