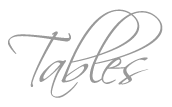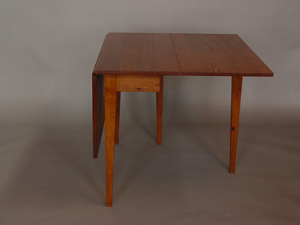 Gate Leg Table
This is a drop leaf, gate-leg table in reclaimed wormy chestnut. The design is simple. The workings make it an heirloom. The wood, of sentimental value and supplied by the customer was rough, dirty stuff to work (serving it's previous life as flooring in the Biltmore Hotel) but polished beautifully. My favorite part is the hand cut wooden hinge. (Click the link or photo to see more pics.) It allows the legs to swing out 90 degrees and support the drop leaves. The thumbnail profile on the leaves' edges conceals the joints at the fold and the entire undercarriage is of bulletproof dovetail construction to resist racking. Inspiration for the design comes from Edward Townsend circa 1765. 39 1/2 x 51 x 30 high. Shaker style per customer request. Seats four comfortably and six tightly. Great tables for confined areas and can be done in most any style or period. SOLD.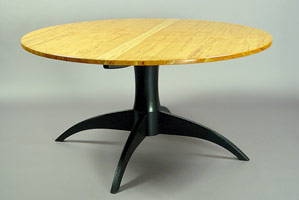 Pedestal Table
This table is just as stable as any four legged table and provides plenty of leg room. Standing strongly upon precision joinery, the hand shaved pedestal is a pleasing form all on its own. A round top invites conversation. Add a Lazy Susan to make passing of food and drink effortless. Add my ergonomic ladder-back chairs for a comfort level around the dining table that says "conversation uncurtailed".
The featured table top is in curly hickory, quarter sawn and book matched. Tradesmen refer to this as veneer but I like to refer to the process as lamination being that the show pieces are cut extra thick. This is no paper thin layer of material used to mask the underlying substrate. This method showcases the grain uniformity of production veneer and the peace of mind of solid wood. This is, in my opinion, the premier method to craft a table top.
The pedestal is constructed of red oak which has been hand shaved to leave tool texture marks and ebonized charcoal black to match the chairs that went with the set.
While this table was crafted as part of a custom set it can be crafted in your domestic wood of choice. Shown here in 60 inch diameter, it seats 6 to 7 comfortably. $7800.00
If a rectangular shaped dining or conference table is what you long for, this design deserves a place at the top of your list. This is paramount Shaker. Poised, dignified, classic, timeless…. You name it. The turned post stand proudly upon arched feet providing leg room in spades! Lightweight and rigid, extend it 7,8,9 feet or longer. A personal favorite. $4100.00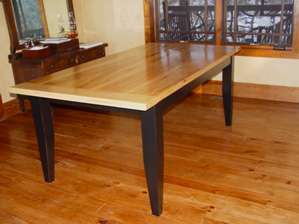 Farm Table
This table is one for the entire family or even the entire neighborhood. Stout and strong, it is as close to bulletproof as a table can be. Extra thick top, breadboard ends, and an oversize mortise and tenoned base. This one was done in hickory and shows its character. Shown here 36 inches wide x 72 inches long, seats 6. $3350.00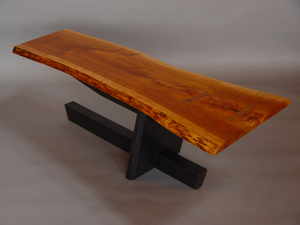 Coffee Table
Natural edge coffee table in cherry, white pine, and walnut bleeds of Nakashima influence and fits well into most any modern decor. Heavily constructed hand cut base joinery coupled with the structural walnut keys in the top will keep it looking great for years to come. Available $1100.00.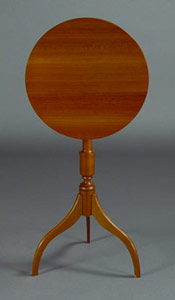 Shaker Candle Stand

Simple. Classic. Timeless. 18" diameter x 26.5-28.5" high. Available with turned bead and cove post which lends itself to the Federal Style, or wine bottle post. Click on the link or picture to see the wine bottle or shaker style. Tilt top is optional. These make great side, end, or even tea tables. $900.00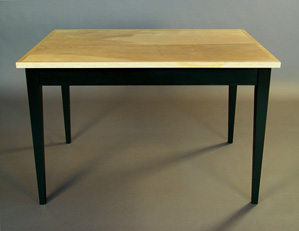 Emily's Table
As simple as it gets. Four legs and a top built to accomodate any budget. This one is built to break down easily. Add drawers if desired, or a mobile desk as shown in the linked pictures. Jazz it up with a figured top. Unlimited options. Please contact me for pricing on this table as it can vary significantly depending upon size, material, and finish. Shown here in a custom sized 34" deep x 47" wide x 30" high.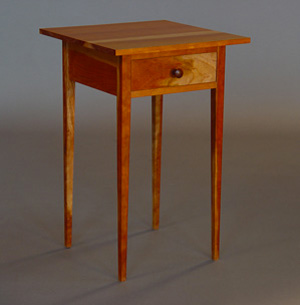 Side Table
Another greart side or end table. Built with a single drawer, dovetailed and piston fit by hand. All furniture knobs are turned by hand on site. $1500.00