This is my effort to create an ergonomic ladderback dining chair, having evolved over several years.
Post and rung construction yields strength in a light weight package. Gracefully flowing rear legs and slats, a flat front rail, and an oversized bottom provide a seating experience that won't rush you to the recliner. Seats are of hickory bark, splint, shaker tape, or rush.

I would like to thank Drew Langsner, Tom Donahey, and Jenny Alexander for the inspiration and encouragement to dive into post and rung construction. Special thanks to Brian Boggs for allowing me to enter the mind of a master. $1200.00.
After researching benches in the period style, I designed this one to sit at the foot of a bed. Nothing whispers grace like a well-proportioned cabriole leg.

The slip seat is crafted with both closed cell and high density upholstery foam to provide ample cushion in a slim package. A deviation from traditional slip seating warranted by its comfort. Shown here in walnut. $1200.00
Also termed a Prairie Sofa, this piece is crafted in quarter sawn wormy white oak of mortise and tenon, post, panel, and frame construction. All tenons are pegged in ebony and hand carved. Seat cushions are cut from high density foam for support that will not quit whether sitting or lying. Back cushions are cut with comfort and lumbar support in mind. All cushions are upholstered in hand-picked quality leather. If you are tired of sinking into an unsupportive couch you will welcome the Arts and Crafts Sofa. $8000.00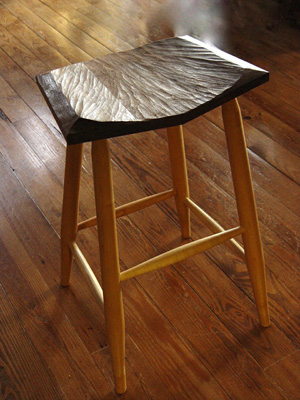 Carved Barstool

These backless stools showcase a carved seat you can sink into with texture only a hand tool can leave behind. A robust post and rung undercarriage mortised into the hardwood seat ensures this stool will stand the test of time. Shown here at 30" height. $800.00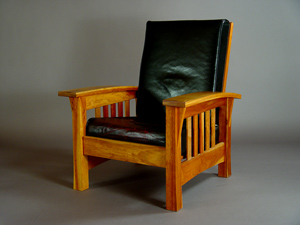 Arts and Crafts Chair
This take on the arts and crafts design offers a softer line with gentle curvature. Leather cushions solidify a timeless piece. Shown in cherry heart and sapwood, this chair was made to furnish a log home but could be refined with solid wood panels as opposed to the slatted side frames. Also looks great in walnut with saddle brown leather or, of course, quarter sawn white oak with your choice of leather. $3100.00